Multnomah County Divorce Lawyer
When a relationship ends, it may be difficult to navigate the numerous emotional issues that lie ahead while attempting to move on and create a brighter future. We at One Day Divorce and Mediation, know that each divorce or breakup is unique, and there is no one-size-fits-all solution. We will work with you and your family to find the best solution for your situation. Our Oregon divorce lawyer Steven Leskin knows how to mediate your case and create a divorce process that is simple, fast and economical. We pioneered the One Day Divorce™ process to streamline the entire process.
For example, we gather the pertinent information about your family online: you will not need to fill out reams of paper forms and send them to your attorney. Instead, you will answer questions online and they will be transmitted directly to our office.
If you are in Multnomah County – Portland, Oregon and in need of help from a divorce attorney in Oregon, contact us today for a confidential consultation about your case.
What's The Difference Between Traditional Divorce And One Day Divorce In Multnomah County?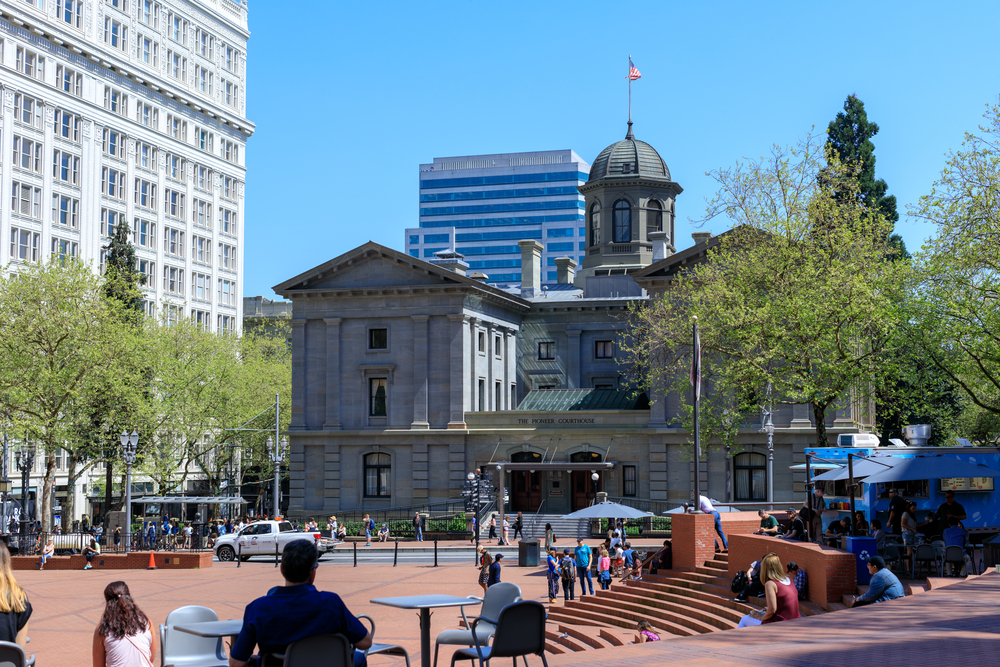 There is no doubt that family law issues can be confusing and complicated in the state of Oregon. Many family law conflicts can have a profound impact on the most important aspects of your life, including your finances, living arrangements, and the ability to spend time with your children.
When it comes to starting and ultimately finalizing the General Judgment of Dissolution of Marriage, time and money matter. In traditional litigation, lawyers may focus on arguing about minutia which can take months and sometimes, years. Not to mention oftentimes, specialized assets require specialized language in the Judgment to bring about the proper distribution of the asset.
With One Day Divorce, your divorce process is fast and economical! Most divorces in Oregon take nine months to a year or longer; One Day Divorce and Mediation's process can be completed in as little as three months. The main focus is on getting the divorce done efficiently and fairly.
The One Day Divorce process is fair and transparent. It uniquely combines the best of two long established dispute resolution methods to bring an efficient solution to your Oregon divorce.
If you are going through a divorce in Oregon, we can help. Call or use the contact form to schedule a consultation to discuss if the One Day Divorce process is right for you. There is no charge for this consultation. By the end of the call, you will know when your divorce can be finalized and how much it will cost.
The 7 Steps Of One Day Divorce Approach – Oregon Divorce Done Differently
The Oregon Divorce Overview process is designed to be fair and transparent. It uniquely combines the best of two long established dispute resolution methods to bring about an efficient solution to conflict.
Our primary goal is to save clients time and money and to resolve their differences quickly: our clients reach resolution on all relevant matters to their divorce—either through agreement or through the mediator's binding decision— in one day. This is Mediation Binding Arbitration, "MBA" for short. Whereas most divorces in Oregon take nine months to a year or longer, One Day Divorce and Mediation's process can be completed in as little as three months thanks to our innovative approach.
One Day Divorce and Mediation: The First Three Stages (Information Gathering)
Our Oregon divorce attorneys use online interviews to gather information, which means, we can assist you anywhere in Oregon.
The first three stages (of seven) revolve around gathering information from the divorcing couple. The second three stages revolve around preparing for the mediation, the mediation, and then preparing and signing the court documents One Day Divorce prepares.
On Boarding – The Stage 1
Our Oregon divorce lawyer conducts an online interview and asks for background information on the husband and wife, employment and income, the marriage, and if appropriate, the children.
Our Oregon divorce attorney will then reviews the legal issues the husband and wife wish to raise. Both husband and wife will know exactly what issues will be raised at the Mediation Binding Arbitration. There are no surprises.
A second interview requires the husband and wife to disclose all assets and liabilities to one another.
The Next Stages involve A Pre-Mediation Conference And Mediation Binding Arbitration
Pre-Mediation Conference – Stage 4
At this stage, our Oregon divorce lawyer prepares for the Mediation Binding Arbitration with the mediator. The mediator will prepare a list of the legal issues raised by the husband and wife and disclose all of the assets and liabilities of the marriage to both parties. This helps identify where the parties are in agreement.
Mediation Binding Arbitration ("MBA") – Stage 5
When hiring One Day Divorce, the parties select the Mediation Binding Arbitration date ahead of time. The MBA will take place within two to three months, not years, after hiring One Day Divorce.
The Final Two Stages
At stage six, the mediator will prepare all of the divorce documents for the judge's review and signature. These are usually prepared within a day or two. These are forwarded to the wife and husband for review and signatures (via eSignature). Both parties have 7 days to sign. Once the
documents are signed, One Day Divorce pays the court filing fee and files the documents with the court.
Once One Day Divorce receives notice from the court that the documents are signed, we notify the parties that they are divorced and follow up with a comprehensive post-divorce plan to get your life back on track. The entire divorce process, including preparation time, will take two to three months.
Why shouldn't I Represent Myself In An Oregon Divorce?
It is common for self-represented litigants to become disillusioned and disheartened quickly after finding a wealth of information on the Internet.
In the beginning, they seek out competent legal resources created specifically for non-lawyers (these materials are few and far between). Usually they seek information about filing or serving documents, negotiation strategies, presentation techniques, or even legal procedures, although they may also seek information on filing or serving.
There are, however, often a number of websites with inconsistencies or conflicting information. In addition, self-representers often find it difficult to determine which sources are legitimate or which laws are current. Furthermore, many resources are difficult to read and use jargon or legal terms that are unclear, complicating what you are trying to accomplish.
In some cases, people even begin their search for a lawyer by consulting a family lawyer. Most of the time, they blame themselves for leaving their lawyer because of cost, but really they were justifying to themselves why they didn't feel the lawyer was listening, wasn't taking instructions on how to proceed, or wasn't knowledgeable enough about the particular legal issues they were facing, leaving them uncertain of the outcome.
It can be daunting and exhausting to navigate the legal process on your own. Many self-represented individuals begin with a sense of optimism, but that optimism disappears as soon as they encounter the reality of the legal system. In addition to difficulties filling out application forms, difficult confrontations with their ex, disputes that arise from a previous marriage or in regard to assets, or a difficult time understanding the service process are some of the challenges that can, and probably will arise.
The right Oregon family law attorney will be with you every step of the way, and they'll be able to tell you exactly what questions to ask to paint a complete picture, how to anticipate unforeseen circumstances, and what to do to keep everyone on track.
Divorce is already a difficult and emotional experience. Don't try to handle the legal process on your own. Contact One Day Divorce and Mediation for a confidential consultation with an experienced family lawyer. Call us at 888 888 8911
Contact A Divorce Lawyer In Oregon, Multnomah County
At every stage of the process—from before your initial filing to the day your divorce is finalized—the team at One Day Divorce and Mediation will make the experience as efficient and cost-effective as possible. To learn more about the One Day Divorce process or to schedule your free consultation with a divorce attorney, contact us online or call (888) 888-8911 today.
Call Leskin Law & Mediation