One Day Divorce: How To Start Filing For Divorce?
In many Oregon divorces, the legal process can worsen a bad situation. In many marriages, financial pressures lead to divorce, and hiring an Oregon divorce attorney will cost thousands of dollars.
Regardless of your reason for deciding to pursue an Oregon Divorce, the adversarial nature of the legal process will only leave the relationship in a worse condition. One Day Divorce and Mediation has developed a faster, easier, and more economical approach which streamlines the traditional divorce process. We call our approach, "One Day Divorce."
How Does One Day Divorce Work?
At One Day Divorce and Mediation we understand that an Oregon divorce can be expensive.  In traditional divorce litigation, you enter into an opened ended fee agreement with a Oregon divorce attorney, with an option of choosing a payment plan for your divorce in Oregon. You don't know how much your divorce will cost and you expect hidden fees.  Not to mention, you won't know how long until you complete the divorce and finalize your divorce papers. In Oregon, a divorce is expected to take nine months to a year or longer.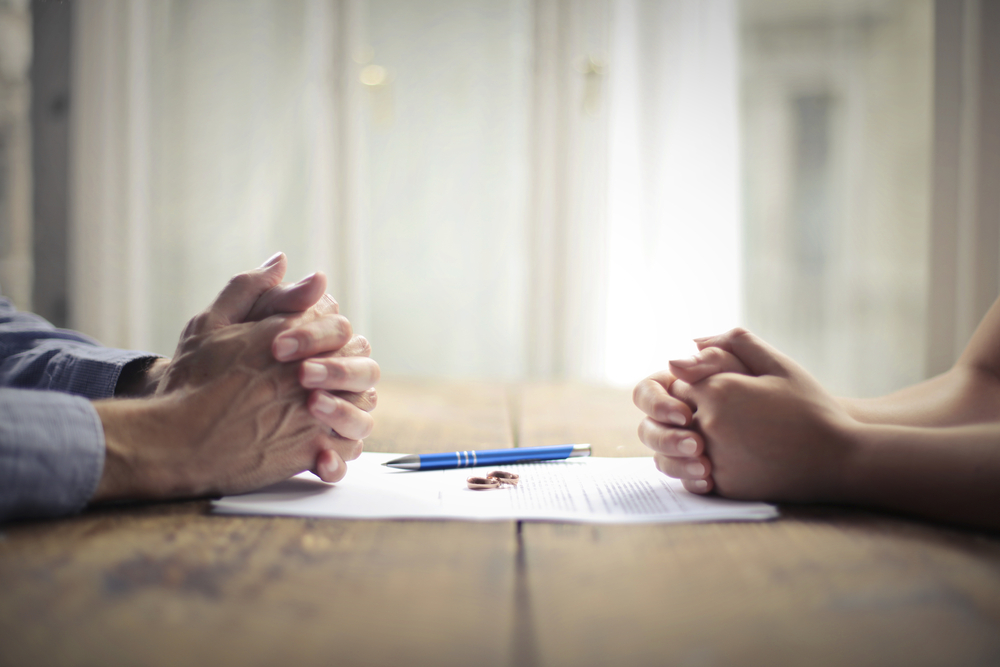 With One Day Divorce you and you ex will know exactly how much your divorce in Oregon will cost, period: the cost is per couple, not per person. You can know more about our fees here.
The Filling For Divorce Process In Oregon
After a brief phone consultation to discuss your case and whether if you qualify for our services, Steven Leskin will start your One Day Divorce Process:
Husband and wife must both sign the Mediation Binding Arbitration Participation Agreement;
Payment for services;
Schedule the Pre-Mediation Conference and the Mediation.
Both husband and wife sign the Mediation Participation Agreement via e-signature. After we receive the agreement back, you will receive an invoice with a payment link. Payment can be made via credit card, eCheck or "Buy Now, Pay Later". Once we have these three items in the office, we will begin the process of gathering information.
The Purpose Of The One Day Divorce Process
One Day Divorce challenges the traditional divorce process. Our innovative divorce approach is designed with fairness, transparency, budget and efficiency in mind. Participants benefit not only by saving time and money, but by reducing stress and anxiety. Indeed, you will obtain your divorce in a far shorter period of time and at a much-reduced cost over traditional litigation.
Know more about our One Day Divorce and if you are qualify for this service. Call us at 971 930 4716 or contact us through our online form. We offer payment plans.
FAQ
No. You can show up to court and take your chances. By the end of the day, if the case goes to trial, you will be divorced. The risk is that you do not account for all the assets or debt, or that an asset or debt is mis allocated, that you either do not request the court for some thing you are entitled to receive, such as spousal support, or that you pay to much, or that a parenting plan is not practically and thoroughly constructed by a judge who only has passing familiarity with your situation. If you can live with these risks, then you do not need an attorney.
The legal process is anything but straightforward unless you have been through it before. The attorney will gather all of the information about the assets and liabilities of the marriage, learn about the children, and then develop a plan to achieve either the most practical or most advantageous settlement for the client. If there is no settlement, then the attorney will prepare the case to go to court – where the judge the fate of the couples' property and liabilities.
A divorcing spouse does not need to hire an attorney. However, it really depends on the situation and the complexity of the couple's assets and liabilities. For a couple with no assets or debts, the online forms published by the State of Oregon are sufficient, generally. If there are children, the divorce becomes more complicated because in addition to dividing property and debt, the couple needs to work out custody, parenting time and child support. An industrious person can do this, but there are pitfalls an experienced lawyer can help avoid. If there are complicated financial holdings, retirement accounts, business which need to be valued, then an experienced attorney really is necessary.
There are a lot of very good, competent and pragmatic divorce attorneys in Oregon. If you have not been through this process before, you probably should plan on speaking to at least two attorneys. Look for differences in approach. Ask pointed questions about how many cases they to take to trial in your county. Is the attorney attempting to scare you or stoke your anger at your spouse? If so, he or she will probably not be a good hire. Needless to say, look for recommendations from friends, family and other professionals. Experience, more so than impressive credentials, is very important in the legal profession. How long has the attorney been practicing? Do they practice only in this area or also in other areas of law? I recommend hiring someone with at least five years experience, but ten or more is optimal.
A lot of the larger firms are divorce mills. The unspoken emphasis is on billing clients to maximize profits for the owners. You will likely be dealing with an associate or junior associate most of the time. Some of these firms produce outstanding results, no doubt. But, despite the money you will spend, not necessarily. However, the larger firms come with a price. Many of the smaller firms and sole practitioners have been in practice for many years. They are more responsive to clients. The big firms may have deeper wells of collective and institutional experience, but the attorneys in the smaller firms are likely in court more and you will be dealing directly with a partner or owner.
Call Leskin Law & Mediation